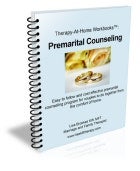 As people monitor their wallets more closely and are busier than ever, there is an increased value in finding cost effective and time saving solutions to any number of things - including premarital counseling. This, in conjunction with the upswing in popularity of downloadable eBooks, means great timing for the availability of a premarital counseling workbook (eBook) that couples can buy online, download and print for use in a very short amount of time.
Therapy-At-Home Workbooks™: Premarital Counseling Workbook for Couples is the first of two workbooks in a planned series on a number of individual and relationship therapy topics by Licensed Marriage and Family Therapist, Lisa Brookes Kift. Therapy-At-Home Workbooks™: Premarital Counseling Workbook for Couples is for couples to use together and provides a framework for you to strengthen your relationship foundation prior to marriage. Its' interactive format with exercises, worksheets and a space for couples journaling makes it a great keepsake for you and your fiancé - to remind you of what you worked on in preparation for your marriage.
The central focus of Lisa's premarital counseling work is what makes up a strong relationship foundation. She believes emotional safety, relationship balance, an understanding of relationship logistics / expectations and an exploration of individual, couple and family goals are all important aspects to consider. These principles are weaved through out the workbook. She provides communication tools at the beginning to assist couples in navigating through the more potentially difficult areas. Lisa provides written guidance and commentary throughout in a user-friendly, conversational style. Though this modality will be ideal for many people, Lisa is clear that "therapy at home" isn't for everyone. She does not recommend her workbook for higher conflict couples or those who have deeper unresolved family of origin issues that are playing out in their relationships. In these cases, a local couples therapist is likely a better choice.
The second workbook available in the Therapy-At-Home™ line is The Marriage Refresher Course for Couples, ideal for couples who feel their marriages are less connected than they once were and want to do something about it. It contains the concepts of Lisa's premarital work along with tips to work through three of the primary marriages issues she sees in her couples counseling practice.
-----------------------------------------------------
Lisa Brookes Kift, MFT, has a psychotherapy practice in Marin County, California (www.marintherapyandcounseling.com) working with individuals and couples. You'll find all of her mental health / relationship articles, tips and tools in The Toolbox at LisaKiftTherapy.com.
See what Lisa has to say about many marriage and relationship topics in her daily column as the San Francisco Marriage and Relationship Examiner on Examiner.com.